Aluminized Apron
Item #726B, Aluminized Apron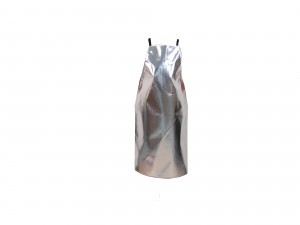 Designed for maximum safety—it won't pull you into dangerous machinery, even if it gets entangled. Ergonomic straps criss cross in back, evenly distributing the weight across your shoulders.
Measures 24"W x 42" L.
Proudly MADE IN THE USA our Light weight aluminized apparel offers excellent high temperature insulation against radiant heat and molten splash. Our garments reflect 90% of all radiant heat, this keeps the wearer cool, comfortable, and safe in high temperature environments.
Available In:
Aluminized Rayon: AR 15 oz. - is a permanent flame retardant (PFR) rayon made with a herringbone weave. Good for moderate exposure to molten metal splash and best freedom of movement.
OR
Aluminized Carbon Kevlar: ACK 19 oz. - is a blend of non-melting semi-carbon and aramid fibers. Designed for high temperature insulation and excellent resistance to abrasion and molten metal splash
KAREWEAR® is the smart choice for people working in ALL industrial and machinery trades.